Electrical Services in Champion Forest
Licensed & Insured Electricians Serving Champion Forest
Servicing North Houston for Over 50 Years
Keeping Your Champion Forest Home Up to Date
With many Champion Forest homes built before 1990, it's important to make sure that your electrical system is working as it should. An outdated electrical system may overheat and could lead to sparking, which could cause an electrical fire. If you are considering renovation or updates to your home, you should have your electrical system inspected to ensure that it's up-to-code before installing new appliances to prevent overloading your electrical system.
Notice: If you are currently dealing with a sparks, smoke, or a fire, immediately call your electrical provider and ask them turn off your home's electricity. Call the Klein Volunteer Fire Department via 9-1-1 dispatch to extinguish any fires before calling John Moore.
John Moore's Electrical Services Include:
Electrical Repairs & Upgrades, Breaker Panel Inspection, Repair, and Replacement, Rewiring, Electrical Inspections, High-Voltage Repair, Whole-Home Surge Protection, Indoor and Outdoor Lighting, Overhead & Underground Lines, Grounding, Electrical Outlets, Switches, & Dimmers, Ceiling Fan & Fixture Installation, Stand-by Generators, LED & Recessed Lighting, Code Corrections
Worried about your electrical system? Call 713-730-2525 to schedule a licensed, insured electrician to inspect your electrical system.
Breaker Panel Inspection in Champion Forest
Your breaker panel (which may also be referred to as your distribution panel, electrical panel, or breaker box) is the heart of your home's electrical system. It distributes power to your home's lights, outlets, and appliances as you use them. Along with distribution power, your breaker panel should also have the ability to detect when unsafe amounts of electricity are being pulled from a specific appliance or outlet and automatically shut power off to that area of the home. However, older panels may not include this important safety feature, which is why you should check to see if your panel is outdated or has been recalled.
As your panel ages, any number of things can happen to it. Pests may find their way inside and damage the wiring and frequent power surges may lead to a circuit malfunction or even cause a fuse to explode within your breaker box. If you find that a circuit won't reset or that there are black marks on the panel itself, you should have your panel inspected by a licensed electrician who can make necessary replacements. Even if you don't notice any major issues, it's good practice to have your electrical panel inspected every few years, especially if you plan on adding any new appliances.
Rewiring Champion Forest Homes for Safety and Efficiency
Your wiring is, of course, an important component of your electrical system, so it's imperative that it also functions properly. Modern electrical wiring is made of copper insulated with PVC. However, in some Champion Forest homes built before the 1990s, you may find electrical wires made of aluminum with a cheaper plastic insulator.
The problem with these older wiring systems is that aluminum has less electrical resistance, meaning it is more likely to overheat. This may melt the wire's insulation. In addition to this drawback, non-PVC insulators tend to become brittle over time and begin to flake away, leading to an exposed wire. When exposed wires come into contact with another wire or conductor, it can lead to sparks and electrical fires. Mice, rats, and other pests are also known to chew through wire insulation.
If you have flickering lights in your home, outlets or switches that don't work, or hear a buzzing sound from behind your walls, you should call a licensed electrician to inspect your home's wiring system.
Get Instant Electrical Help in Champion Forest!
Connect with a John Moore Expert Using a Single Click
Click this button so you can:
Schedule a Job | View Memberships | Learn About Financing
Kitchen and mainline stoppages with accessible cleanout. 60-day warranty.
*Mention this special.
Fall Furnace Tune-Up & Inspection
With a No-breakdown Guarantee!*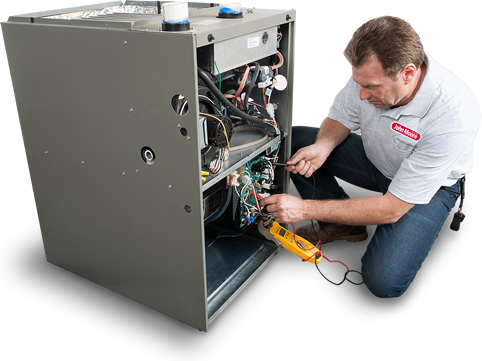 Get a 30-point inspection and tune-up to keep your system in optimal condition!
*If your heating system fails within one year of the maintenance, the cost of the $69 tune-up can be applied toward any repairs.
*Mention this special.